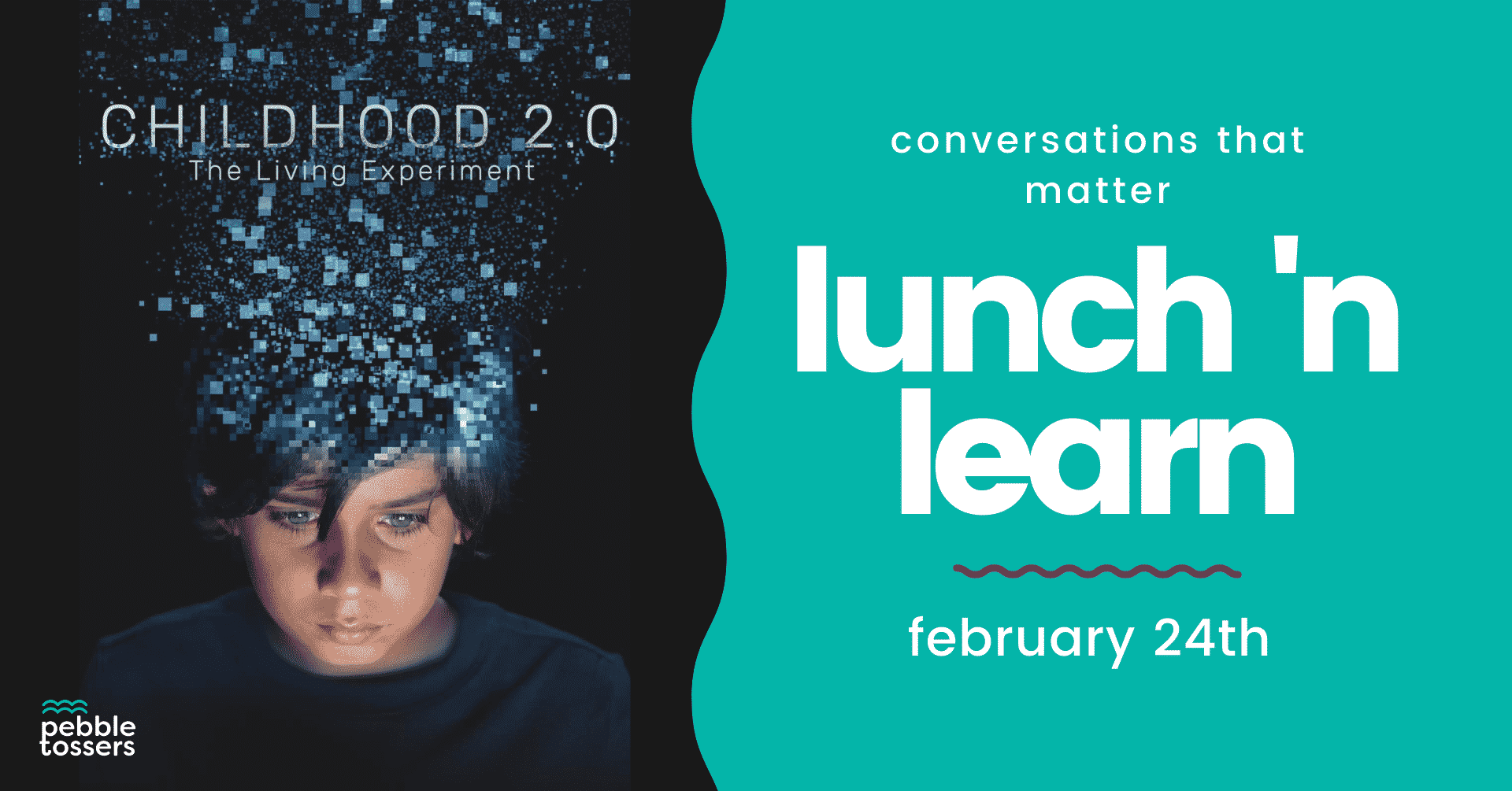 Pebble Tossers to host experts in a panel discussion on February 24th
(Atlanta, GA, February 18, 2021)…Pebble Tossers, Atlanta's leading youth development nonprofit organization, is hosting two online panel discussions on February 24th for parents and guardians to help navigate the dangers of online activities.
Pebble Tossers, partnering with The Kid Factory, will host a viewing of Childhood 2.0 followed by an open dialogue for parents with a panel of experts. The Childhood 2.0 documentary explores the dramatic technological and cultural shift that children and parents face with the rise of social networks and mobile devices, including:

• issues of addiction and withdrawal
• anxiety and depression
• cyberbullying
• the culture of sexting and unforeseen consequences
• the loss of free play and autonomy
• the rapid growth of suicide among children and teens
"As parents, we worry about the physical safety of our children. However, many of us are not as savvy on social media and don't know how to discuss cyber-safety with our kids, " said Jen Guynn, Founding Executive Director, Pebble Tossers. "The Childhood 2.0 documentary brings this aspect to light and Pebble Tossers believes that cyber-safety is an important issue intertwined with the social-emotional development of youth." 
A panel of experts, moderated by Guynn, will join the conversation to encourage communication between parent and child while still allowing freedom and privacy and the ability to maintain mental health and physical safety. They are:

Robert Myers, Clinical Psychologist with a history of working with the individual and family service industry
Tessa Cole, Ph.D. Candidate, Criminal Justice at Georgia State University Member of American Society of Criminology and Academy of Criminal Justice Sciences
Titania Jordan, Chief Parent Officer, Bark Technologies and author of Parenting in a Tech World
Cindy Robinson, Founder, The Kid Factory and certified parent coach
Event Details
(same panelists for both sessions)
Date: Wednesday, February 24th:
10:00am: Viewing of Childhood 2.0 documentary online. All participants are encouraged to watch the Childhood 2.0 documentary prior to the panel discussion. It can be viewed here: https://youtu.be/He3IJJhFy-I. Parental discretion is advised before showing to children 12 years of age and under.
11:45am: Panel Discussion via Zoom*
6:00pm: Panel Discussion via Zoom* 
*To register for either session, please visit: http://bit.ly/2NvcMsD. If you have any questions, please call 678.757.5597 or email beth@pebbletossers.org.
About Pebble Tossers
Pebble Tossers is the premier local youth service organization focused on providing families with a comprehensive path to youth development through service to others, from preschool to graduation, or "nap to cap." Customized programming empowers youth to lead by providing them with resources and age-appropriate opportunities. With Pebble Tossers, volunteers sign up, show up, and serve to create a ripple of giving in their community.