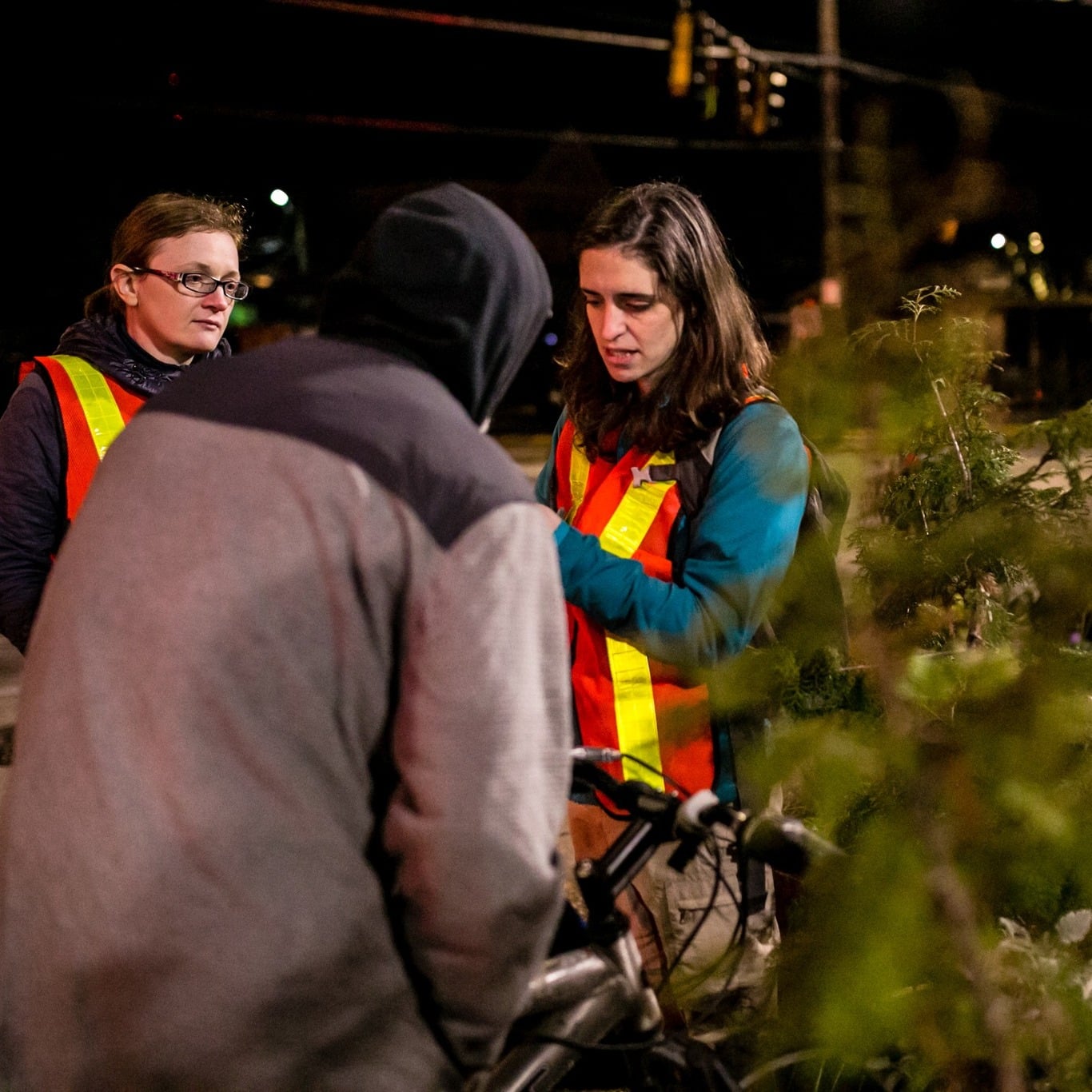 Anticipation grew in my heart as I added another layer of clothing and wondered who I would talk with. The temperature for January 23rd was expected to drop below 30 degrees overnight, and I knew we would not be stopping anywhere to get warm as we walked the streets of downtown Atlanta from 9:00 pm to 3:00 am.
The Point-in-Time count sends volunteers onto the streets across the country to determine the number of unsheltered people. The U.S. Department of Housing and Urban Development (HUD) requires communities that receive federal funds to conduct an annual count of all unsheltered people in the last week of January. The timing of the count is intentional. The weather at the end of January is typically very cold, and, for some, any financial assistance they had will be depleted by the end of the month, so they likely will not have sheltered housing.
Working towards ending homelessness across the country, the Point-in-Time counts help determine the scope of homelessness in communities and inform policymakers and program administrators of which programs are working or where there are gaps in services. The PIT count began collecting data in 2005, and the results have increased public awareness and directed resources to the unsheltered. 
The Atlanta PIT count, organized by Partners for Home, brings together volunteers from numerous nonprofits who focus on those experiencing homelessness, community members, and local officials. "This gives us better insight into the number of people experiencing homelessness on one night of the year, on their length of homelessness, their history of homelessness and some other challenges and barriers that they might be facing," says Cathryn Vassell, CEO of Partners for Home. "It's a data snapshot that helps inform our work." 
Volunteers head into the city armed with $10 Chick-fil-A gift cards and seek out unsheltered people to answer questions about their time on the streets. We start by introducing ourselves and asking their names. We quickly ask questions about how long they have been unsheltered, if they have any chronic illnesses or disabilities, if they have served in the military, and other demographic information. The questions are personal and invasive. We ask for forgiveness with the Chick-fil-A gift card, but most people don't mind answering the questions. They are brutally honest and straightforward.
Carrying backpacks filled with blankets, coats, caps, gloves, socks, hygiene kits, and snacks, we were a welcome sight to those we encountered. I was surprised that most of the people I spoke with were men in their 50s and 60s who had been chronically homeless with absolutely no source of income or public assistance. During the 2022 PIT count, I encountered more men in their 30s who were just recently homeless. When I asked one man if he would like to go to a Warming Center, he responded with a smile, "Why? I've got a nice tent right here. I'm fine." He graciously accepted a warm blanket.
Others shared stories of domestic abuse, drug addiction, and job loss, leading to their life on the street. We listened and smiled and tried our best to let them know they were valued. Our team of seven was led by Matthew Reed, a social worker specializing in Homeless Outreach for Intown Collaborative Ministries. Matthew knows the area we canvassed and reached out in advance to several people so they could expect us. He warmly embraced people, and it was clear there was a relationship built on trust. Matthew shared, "It was very humbling to observe the grace and kindness that radiated from our team. Interacting with folks during the PIT can be odd at times. Yet being prepared with gifts and a gentle spirit, I found our meetings to be dignified and restorative."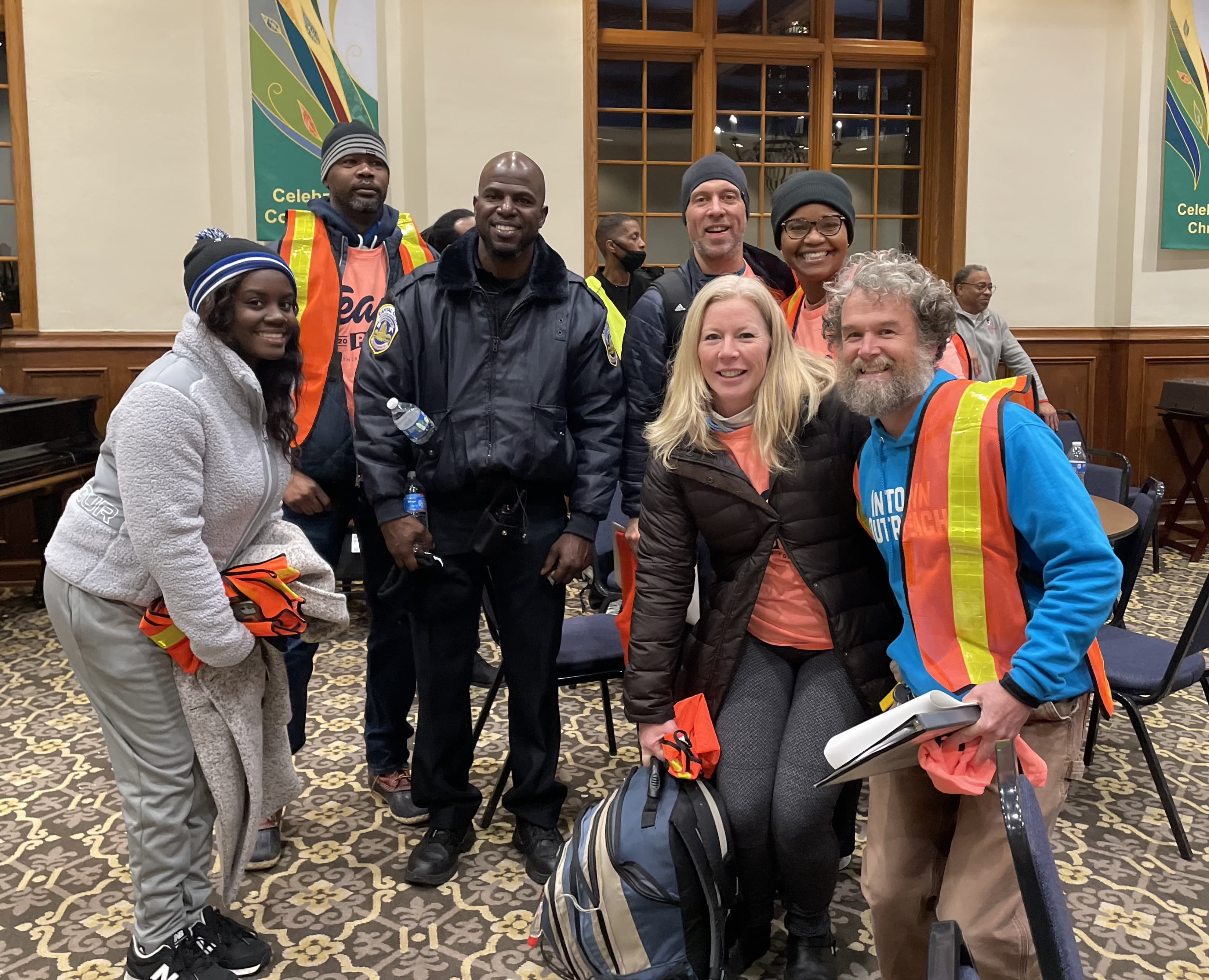 Our team was the last to return back around 2:30 am. We were tired, cold, and very grateful that we had a warm bed to return home to that night. I anticipated falling asleep immediately, but my mind raced with questions and concern. There are so many circumstances that lead to chronic homelessness. The lack of affordable housing, the lack of adequate and accessible health care (both physical and mental health), education inequalities in low-income areas, and a lack of jobs that pay a livable wage are systemic issues facing the country. 
The next day, I picked up more blankets donated by a Pebble Tossers family and set off to find a few people who had not received a blanket the night before. While I could not find those people we met, I found others who were excited to have warm blankets. One woman exclaimed joyfully, "My dog and I were so cold last night – thank you!"  
It is easy to feel helpless when it looking at the broader issue of homelessness in our country. But if we approach things one issue at a time, it is easier to see a path that may end this crisis. What is next, and what can we do? 
We can

advocate

for a shift in federal and state resources toward funding affordable housing that provides supportive services. 

We can

donate

resources and time to nonprofits that work with those experiencing homelessness. 

We can

research

and support organizations that provide a coordinated approach by offering temporary housing, rapid rehousing, job training, and life skills training. 

We can

educate

ourselves with factual data and eliminate bias based on stereotypes. 

We can

see

and talk to people who are experiencing homelessness and not avoid them. Learn their name and say it back to them with a smile.
Additional resources: 
Pebble Tossers' Nonprofit Partners Serving Those Experiencing Homelessness
Journal Prompt:
Read this quote and think about what it means and what you can do to "start in our own homes" to remedy poverty.
"We think sometimes that poverty is only being hungry, naked and homeless. The poverty of being unwanted, unloved and uncared for is the greatest poverty. We must start in our own homes to remedy this kind of poverty." — Mother Teresa
2023. Written by Jennifer Guynn, Founding Executive Director of Pebble Tossers