Great news! Pebble Tossers received a $10,000 grant from Halle Tecco, an entrepreneur + philanthropist,  to provide immediate assistance to families in the greater Atlanta area affected by the COVID-19 pandemic. We are starting a ripple of giving with this grant and offering 10 youth a mini-grant of $1,000. Best of all, the grant money will be youth-led, youth executed. Now is your chance to lead through service in a critical time! Here's what you need to know:
RESULTS: The projects have been completed and the impact to the community are incredible! Here are the highlights:
900+ people benefited;
3,000+ meals provided;
17 computer tablets provided access to online education;
Hundreds of critical items, such as PPE, cleaning supplies, hygiene kits, and feminine products delivered;
Hundreds of comfort items, such as reading materials, games, & toys delivered;
Critical care documents translated into multiple languages;
Inspired others to join in to increase funding and reach;
Leadership skills, such as project management and budgeting, gained;
Teens empowered to directly help their communities.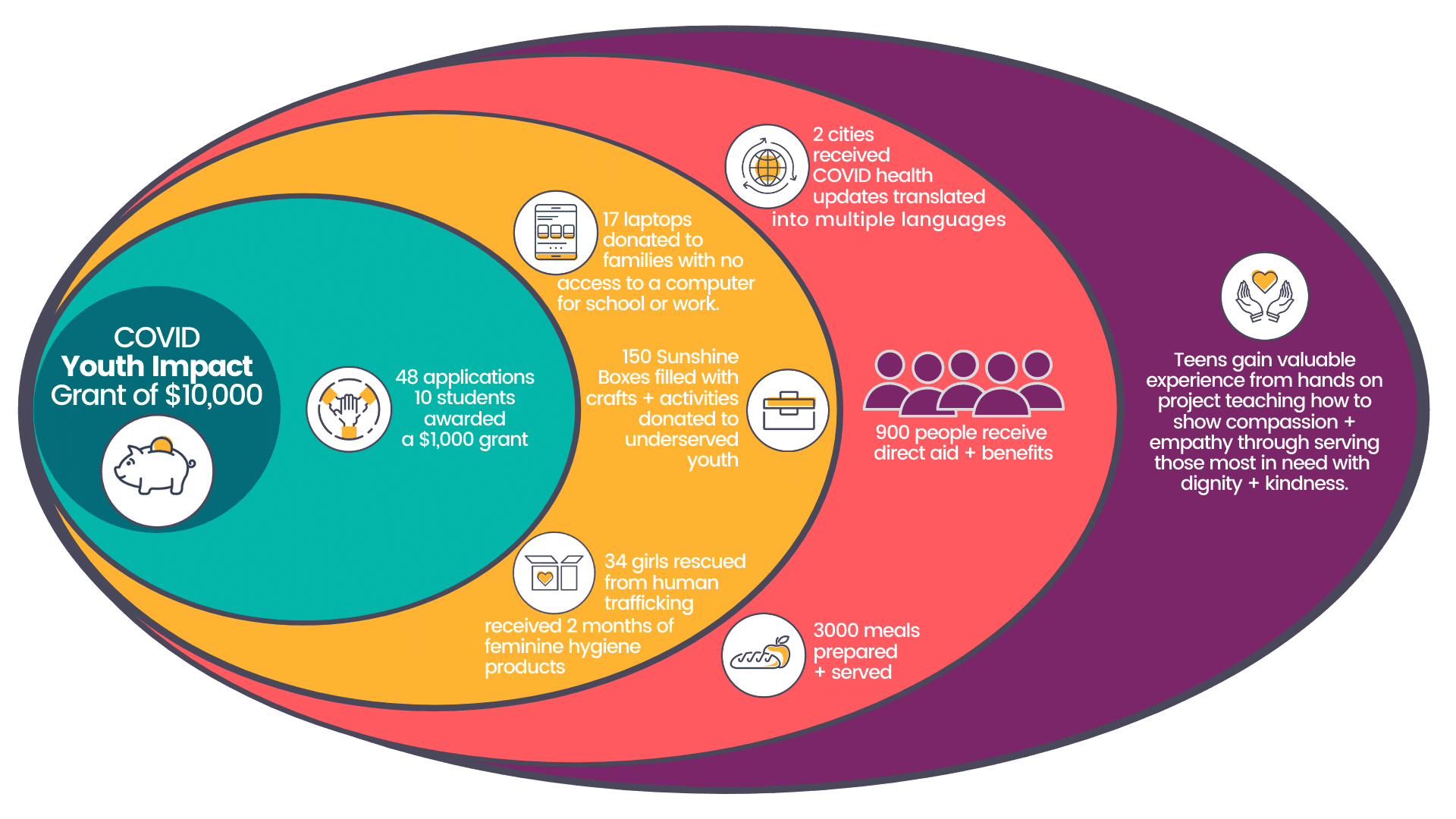 Pebble Tossers Youth Impact Grant Results Press Release
GRANT RECIPIENTS: Pebble Tossers received almost 50 innovative, creative and all-around outstanding applications. A panel of judges reviewed application based on the guidelines provided to all applicants to come up with our ten winners. Each grant recipient and a summary of their project is listed below (in no particular order). We will provide updates throughout the project time period.
Grant Recipient: Angelina Sheeran, Allie Knight + Hunter Knight
Along with a 7th grade girl scout troop and boy scout troop, Angelina, Allie and Hunter will create 100 "sunshine boxes" to bring joy and smiles to kids during this hard time. These boxes will bring joy with sidewalk chalk, bubbles, playdough, snacks, coloring books, and crayons, and they will be distributed through 3 organizations including Bridging the Gap, One Roof, and Backpack Buddies.
Grant Recipient: Chad DeWitt + David DeWitt
These two 10th and 12th graders at St. Pius X Catholic High School will purchase food boxes through Friends of Refugees to feed refugee families in Clarkson, GA while in mandatory isolation after COVID-19 testing. These boxes are designed to feed a family of six familiar foods for three to four days, and they will include language-specific educational resources outlining safety protocols, allowing everyone to stay safe.
Grant Recipient: Adam Jordan II
A 10th grader at Druid Hills High School, Adam will use the grant to assist the Covenant House Atlanta to provide a safe place for homeless teenagers during this pandemic. This will support his campaign titled "Teens Against COVID-19: Sheltering in Place for Success," where he seeks to assist vulnerable teenagers in Atlanta with educational, nutrition and hygiene resources.
Grant Recipient: Ryan James + Thomas James
These two 7th graders at Peachtree Charter Middle School will meet two urgent needs for the Atlanta Ronald McDonlad House Charities at Scottish Rite. This will include providing individually boxed meals from a food establishment for families staying there and providing high-demand items such as various food items, disinfectant wipes, and all-purpose cleaner.
Grant Recipient: Kimberly Guzman Martinez
Kimberly, an 8th grader at Peachtree Charter Middle School, along with a group of teenagers at Corners Outreach, will complete three different projects to uplift the community in which they live. These projects will include providing food assistance to at-risk individuals and families, creating COVID-19 safety information sheets in Spanish to educate neighbors who speak limited English, and creating positivity signs to spread joy. They will also create face masks to protect at-risk individuals.
Grant Recipient: Jasmin Harris
A 10th grader at Charles Drew High School, Jasmin will provide quarantine snacks and a "pizza party" to teenagers residing at The Rainbow House, Inc. in Clayton County. She will drop these items off on Easter to bring some cheer and hopes to communicate that they are valued and loved through this uncertain time.
Grant Recipient: Grace Manning
A 7th grader at Autrey Mill Middle School, Grace and her family will provide supplemental food packages to 50 low-income families in need due to the stay-at-home order. They will distribute these food packages through the Community Assistance Center (CAC) food pantry in Sandy Springs.
Grant Recipient: Hayden Jacobs
In collaboration with the Sandy Springs Mission, Hayden will purchase used laptops or electronic devices for low-income 4th/5th graders that do not have access to a device for tele-schooling. They will host online training sessions for the kids, so that the kids are able to complete their school learning, participate in video tutoring through the Sandy Springs Mission, and stay on their current educational track.
Grant Recipient: Nicholas McKinley + Juliette McKinley
These 11th graders at the Capstone Academy-Atlanta will use their funding to 3D print open source face masks for essential businesses and Assisted Living Centers. They will continue providing daily educational classes using household items to serve families in quarantine. Additionally, they will provide funding to the Smyrna Grocery Assistance Fund and the Delivery Program.
Grant Recipient: Anna Banner
A 7th grader at Westminster School, Anna and her family will create hygiene packs for at-risk girls in their community. These packs will include items such as body soap, deodorant, feminine-care products, and socks. These will be distributed through JoyUs Beginnings Child & Family Wellness Center as well as the Trauma Resource Institute, LLC.
Pebble Tossers Announces $1,000 Grant Recipients
Pebble Tossers Announces $10K COVID-19 Youth Grant Opportunity
THE PROJECT: Come up with an innovative, creative way to help your immediate community and maximize the benefit of your $1,000. Projects must directly benefit communities most affected by the COVID-19 pandemic. Proposals must be actionable, include a budget, show measurable results and primarily be distributed in the areas of hunger relief and housing assistance within your immediate community. If you have an innovative idea unrelated to hunger or housing issues, please specify why this issue should be priority. If selected, we will help you seek additional matching funding and/or in-kind supplies to further the impact. We're in this together, and we will provide the training to expand our ripple of giving.
Speed is key. We encourage you to come up with innovative ideas that can quickly be implemented and have maximum impact. 100% of the funding you are awarded will go directly to the community you serve. Project ideas can range from purchasing food items for a food pantry in your community to providing rental assistance to medical technicians living in subsidized housing. Think BIG, think BOLD!
THE DETAILS: Ten winners will have $1,000 to invest in their communities. Applicants will have 7 days to invest the funds, provide verification of all expenses or donation receipts and provide photos and social media posts of themselves during each step of the process. Pebble Tossers will seek media coverage to promote your efforts and inspire the rest of the community to take action. The Pebble Tossers Board of Directors will have an objective rubric on which to judge
the applications.
THE IMPACT: The youth leadership opportunity provided by these mini-grants will immediately improve the lives of the community members. They will also empower you, our leaders of tomorrow, with service-minded hearts and minds as you move into adulthood.
Our world has dramatically changed over the past four weeks due to the COVID-19 pandemic. We are in a time of crisis. Let's be a part of letting light shine in the darkness.
PROJECT APPLICATION ASSISTANCE: SMART goals are used everyday in business and are required for this application process. To help, please use this SMART goals reference sheet:
Pebble Tossers SMART Guide for Covid19 Teen Grant.
Please also provide a detailed budget for how you will spend the full $1,000. To help, please use this Pebble Tossers Budget Worksheet.
REQUIREMENTS:
Applicant must be between 10-18 years old and live in the greater Atlanta area.
Applicant can be an individual, a family, a youth-led school club, a youth-led civic or faith-based group.
Project must address critical needs caused by the COVID-19 pandemic crisis.
Project must benefit low-income or high-risk youth and their families in the greater Atlanta area.
Funding must only be used to meet the goals of the project. (NO personal expenses whatsoever)
Funding will be released to an adult/guardian; to a nonprofit or to an end beneficiary as described in the application.
Receipts and/or a donation acknowledgment by the end beneficiary (a nonprofit, leasing office, etc…) must be provided promptly.
Applicant may submit more than one (1) idea but no more than five (5). Each idea must be submitted separately and an applicant may only win one (1) mini-grant.
Per the grant from Halle Tecco, applicants who are considered low-income will be prioritized in order for youth to learn how to give where they live.
TIMELINE:
Grant Applications due by 5pm on Friday, April 3, 2020
Grants will be awarded Monday, April 6, 2020 – winners will receive an email.
Project to be completed by end of day Monday, April 13, 2020
Receipts and Project Report due to Pebble Tossers: Saturday, April 18, 2020